Goodyear Tire Review
American tire manufacturer Goodyear has been in the business of building tires since the invention of vulcanization. Founded in 1898, it's one of the top four tire makers in the world today.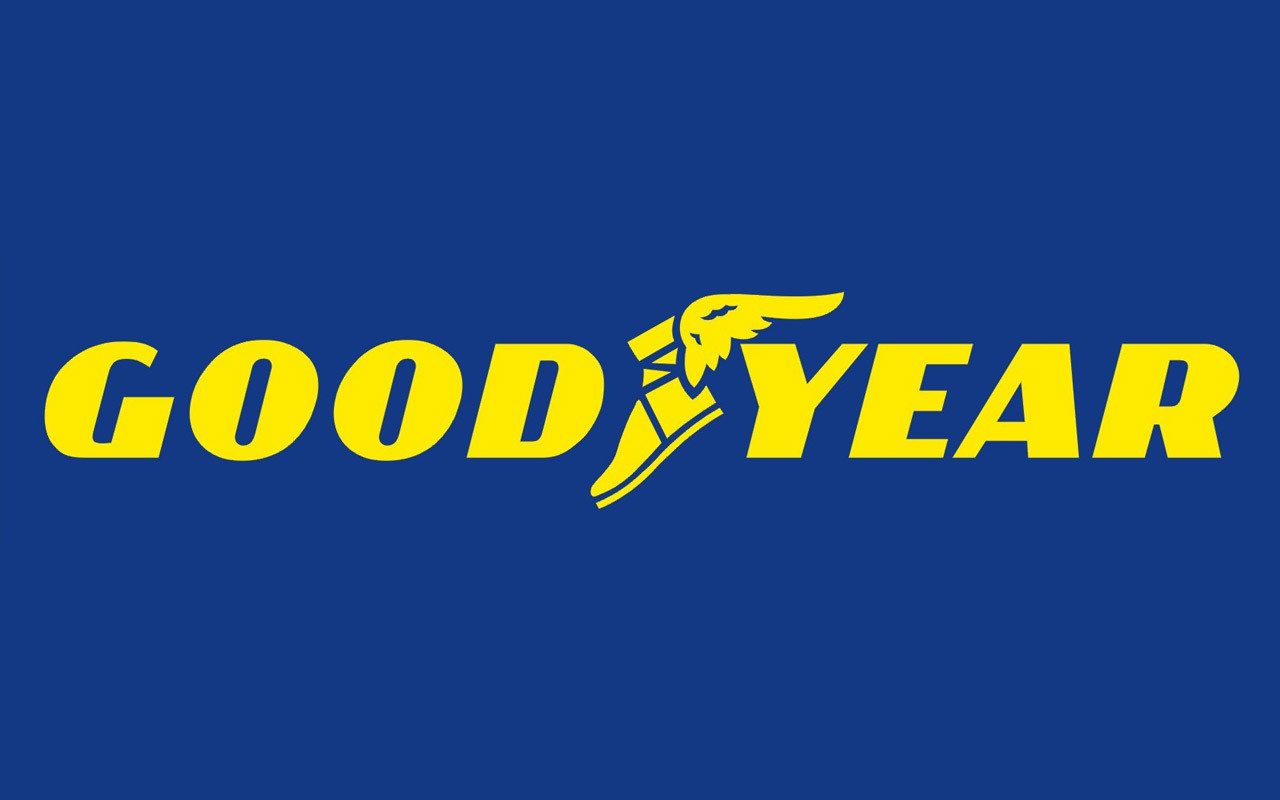 About Goodyear
Goodyear has a bewildering array of 85 different tires, in everything from ultra-performance tires like the Eagle F1 Supercar, all the way down to the Radial LS, a budget all-season tire for commuter sedans. About half the tires that Goodyear offers are for trucks and SUVs, so there's plenty of range there, too.
The Goodyear Tire & Rubber Company is an American multinational tire manufacturing company founded in 1898 by Frank Seiberling and based in Akron, Ohio. Goodyear manufactures tires for automobiles, commercial trucks, light trucks, motorcycles, SUVs, race cars, airplanes, farm equipment and heavy earth-moving machinery. It also makes bicycle tires, having returned from a break in production between 1976 and 2015. As of 2017, Goodyear is one of the top four tire manufacturers along with Bridgestone (Japan), Michelin (France) and Continental (Germany).
Reviews on other websites
How Goodyear Works
You can buy online in a few quick steps:
ADD TO CART: Once you've found the right tire, you'll be able to select a quantity and see installation pricing.
CHOOSE YOUR INSTALLER: Select from a list of trusted installers near you, and schedule your installation.
CHECK OUT: You'll pay for your tires, installation, and taxes all up front.
HEAD TO THE INSTALLER: The tires will be waiting there, where they'll be installed for you.
Available Tires
Goodyear has one of the largest tire selections, designed to complement almost any road condition or driving style. Some of the available tires include:
All-Terrain Tires
Goodyear's all-terrain tires, also known as off-road tires, mud tires, or 4×4 tires, offer tough traction for both on- and off-road driving. If you drive in places where you face a variety of challenging road conditions, all-terrain tires might be right for you.
Full-Efficient Tires
If you spend a lot of time on the road and you want a tire that can face a variety of weather conditions, Goodyear's fuel-efficient tires are an excellent fuel-saving option. The tire's low rolling resistance can help save thousands of miles worth of gas over the life of each set of tires.
Sport Performance Tires
Goodyear's sport performance tires, also known as sport tires, offer handling, maneuverability, and enhanced wet and dry traction. If you enjoy driving with precision and responsiveness, these tires might be right for you. Many sport performance tires are categorized as summer tires, but Goodyear offers sport performance tires that fit summer, winter, and all-season categories.
Run On Flat Tires
Goodyear's Run On Flat® (ROF) or Extended Mobility Technology™ (EMT) tires are a great solution for those who value peace of mind and storage space. Since they are made to help you keep driving with a deflating or deflated tire, you should consider them if convenience and safety are top of mind when searching for the right tire.
Best Goodyear Tires by Car Type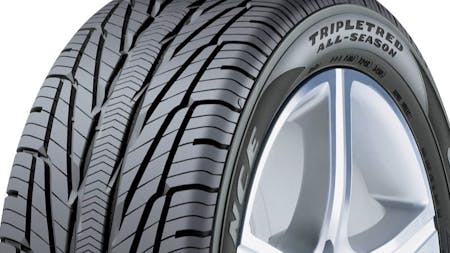 The Goodyear Assurance TripleTred All-Season is designed to give good traction all year long with three distinct tread zones. The wet tread zone has dual Aquachannels with 174 grooves. The ice tread zone has an interlocking tread pattern. The outer dry tread zone has added reinforcement to handle summer heat. It's well-suited to coupes, sedans, and minivans as well as crossovers and SUVs.
Specs:
Brand: Goodyear
Model: Assurance TripleTred All-Season
Weight: 21.5 – 30.9 pounds
Available Sizes: 15", 16", 17" ,18"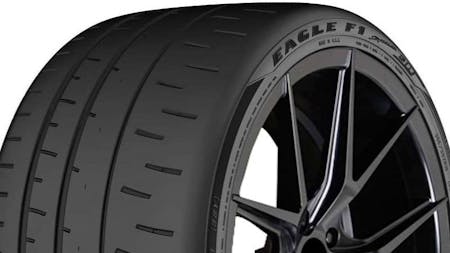 The Goodyear F1 Supercar is a maximum performance summer tire developed for performance cars. It provides great handling with an ultra high-performance tread compound for traction on dry roads. There are large outer shoulder blocks and an asymmetric tread design for grip in the corners and a race-inspired shape to improve handling and wear. While these are great during the summer months, you'll want to opt for an all-season or winter tire depending on where you live during the winter months.
Specs:
Brand: Goodyear
Model: Eagle F1 Supercar
Weight: 25.0 – 34.0 pounds
Available Sizes: 17", 18", 19", 20", 22"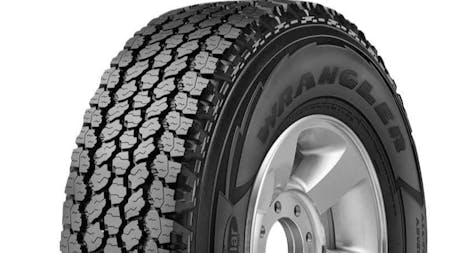 The Wrangler All-Terrain Adventure w/Kevlar is suited to both on-road and off-road driving so it's a great choice for SUVs. A layer of DuPont Kevlar provides extra overall strength while a Durawall sidewall helps prevent those dreaded sidewall punctures. This tire provides the traction you need to manage highway driving in rain or snow through a combination of its tread compounds and biting edges. It just as easily moves to mud and dirt thanks to its open tread pattern giving you the versatility to go anywhere.
Specs:
Brand: Goodyear
Model: Wrangler All-Terrain Adventure w/Kevlar
Weight: 36.0 – 60.0 pounds
Available Sizes: 15", 16", 17", 18", 19", 20"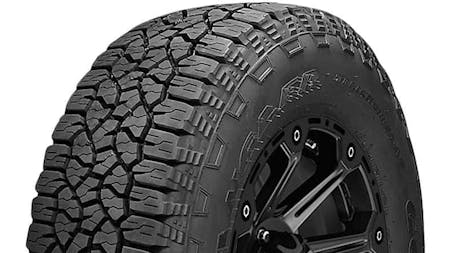 The Goodyear Wrangler TrailRunner AT is an all-season, all-terrain tire designed for pickup trucks and SUVs for year-round driving. Whether you're planning on mostly highway driving with a little off-roading or adventures in the dirt every weekend, the Wrangler TrailRunner AT is a good choice. It provides a smooth, quiet on-road drive while still being able to handle mild off-road conditions with a symmetric tread and interlocking blocks. There are also angled sipes to increase traction in snowy weather. This tire is up to the challenge of dry, wet, or snowy roads.
Specs:
Brand: Goodyear
Model: Wrangler AT
Weight: 31.0 – 60.0 pounds
Available Sizes: 15", 16", 17", 18", 20"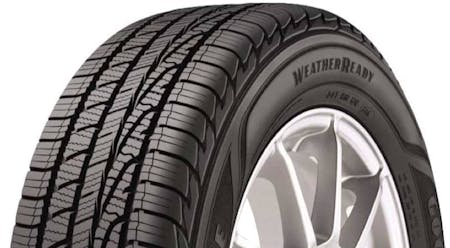 The Assurance WeatherReady all-season really is an all-season tire. That means it can capably handle hot temperatures and cold temperatures and the wide range of road conditions that come with those temperatures. Some all-seasons aren't cut out for harsh winter weather, but the WeatherReady is good to go. It has a tread pattern that maintains its grip when wet, even as the tread wears, and is made of a compound that stays pliable when it's cold. If you want true all-season performance out of a tire, then this one is a great choice.
Specs:
Brand: Goodyear
Model: Assurance WeatherReady
Weight: 19.0 – 37.0 pounds
Available Sizes: 15", 16", 17", 18"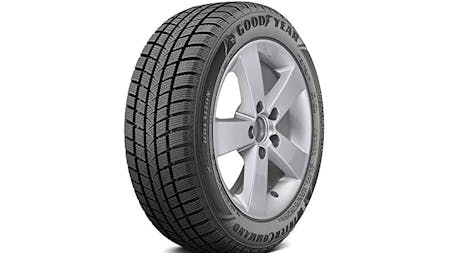 The Goodyear WinterComand is a studdable winter tire, so it can work in more extreme cold weather conditions. It performs well on dry, wet, or snowy roads with a specially formulated compound that stays flexible even when temperatures drop, which is key to maintaining traction in the cold. The tread pattern further aids with traction through a series of notches and grooves that direct standing water away from the contact patch.
Specs:
Brand: Goodyear
Model: WinterCommand
Weight: 17.0 – 31.0 pounds
Available Sizes: 15", 16", 17", 18", 19", 20"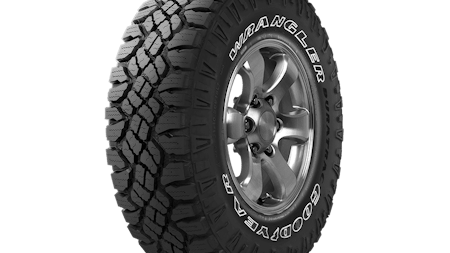 The Goodyear Wrangler DuraTrac is an off-road tire that makes short work of rugged terrain. It can handle both off-road driving and winter weather conditions making it a versatile choice. The tread is specifically designed to provide better traction in deep mud and snow with a rim protector to help prevent curb damage. Noise can be an issue with off-road tires, but these have highly angled center tread blocks that reduce noise and improve lateral stability. And for the dirtiest off-road conditions, self-cleaning shoulder blocks shake off dirt and mud for better traction.
Specs:
Brand: Goodyear
Model: Wrangler Radial
Weight: 29 pounds
Available Sizes: 15", 16", 17", 18", 19", 20", 22"
Tire Warranty
From the assembly line to the road, Goodyear is focused on providing the best products for a confident drive. That's why Goodyear, Dunlop, and Kelly back their tires with warranties that help provide peace of mind.
Payment Methods
Goodyear.com has made tire financing and tire buying easier and more convenient than ever before. They provide multiple payment options, so you can choose what's right for you to get you on the road.
Deals and Discounts
Coupons
Goodyear runs an official coupons page on goodyear.com where they post their latest coupons and promo codes. Check it out here
Military Discount
Goodyear does not offer military discounts.
Shipping and Delivery
Goodyear offers an ongoing free shipping policy, which runs constantly on their e-commerce site. This means you don't even need a discount code to get free shipping–you just add your items to your goodyear.com shopping cart and go through checkout to receive free shipping on your order.
Pros
Nationwide retail network
Standalone Goodyear tire shops
Top quality ranking
Top consumer ranking
Wide range of tire models
Winter tire range
Cons
Price
Only fair wet performance on some models
How long do Goodyear tires last?
That all depends on the tire. Each has its own expected tire life, but remember how your drive can have a big impact on how long your tires last.
What size tires does Goodyear offer?
Goodyear has a huge catalog of tires covering everything from personal to commercial vehicles. It's unlikely you won't be able to find a tire to fit your car and your needs.
What brands are comparable to Goodyear?
Goodyear is a top brand with well-known brands including Michelin and Continental providing comparable tires.